ENERSAL
admin
---
ENERgy Saving Platform Experimentation in ALuminium Melting Process Industry
Description
Challenge:
Obtain an energy efficient smart connected tilting rotatory furnace.
Solution:
Not defined.
Implementation time:  6 months.
Implementation cost: € 60,000
Output: 
Development of Furnace 4.0.
Impact:
10% increase of productivity.
Experiment description
In the ENERSAL context, GHI is working on the design and development of an intelligent and autonomous energy management monitoring system that will favour the optimization of the operation of the tilting rotatory furnaces integrated on the aluminium melting process. For this, GHI has defined an architecture, both at hardware and software level, for the development of this solution.
The following components have been performed:
A high-speed edge-powered furnace control
Theoretical models to control the product temperature.
Big data simulation-based predictive framework
Simulation models to determine the influence of the different parameters to optimize the furnace control.
Prescriptive Energy Management Module
Implement an integral energy management system considering the industrial plant as a whole in a real cyber-physical environment.
Technical impact
The development of this experiment with these new components has led to a series of improvements, some more relevant than others:
Reduction of hardware requirements on the edge.
Reduction of data storage required on the edge.
Cheap/free opensource solutions.
Safety on data transmission through MQTT with SSL increased over VPN tunnel.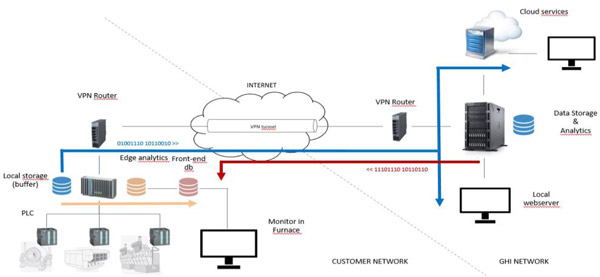 Economical / Business impact
Thanks to the incorporation of digital technologies in our turnkey plants, high added value services are being developed, providing GHI a huge improvement on their competitiveness.
In addition, through these services, a new way of marketing and exploitation of GHI products and services is being discovered, which opens up new access routes to the Market.
---
---
Project:
Enterprises:
GHI Hornos Industriales SL '
Sector
Machinery & equipment
Keywords