DIGITbrain in Agricultural Robots
I4MS_MASTER
---
DIGITbrain in Agricultural Robots
Motivation of the Experiment
Agrointelli, the end-user in this experiment, is a producer of agricultural technology robots. Up until now, every Robotti of AgroIntelli was produced separately. However, the company is now facing the challenge of producing robots in batches. By increasing the number of Robotti produced and sold, the need for tracking individual properties and the completion state of each Robotti being manufactured also increases.
Some Robotti will mainly be used for a specific type of operation (A), driving in a specific country and in specific soil conditions (X), whereas some will use tools (B) and (C) driving in various locations (Y).
Such a large number of various combinations will each reflect differently on the performance of the robot and the need for service. Therefore, the Digital Brain requires to be utilised in order to keep track of the status of different vehicles. The Digital Brain will also open up the challenge for different maintenance-related tasks for the different robots. The process will be monitored using data that feeds into a Digital Twin setup that is currently in the pipeline.
Purpose of the Experiment
The objective of the experiment is to enable the production of robots to different markets in Europe and North America, and to manufacture them in a way that they are born with a digital brain that will follow the robot during its entire lifetime. Different soils and types of agriculture have different requirements. In order to provide the best service, AgroIntelli needs to keep track of each robot driving under different conditions. A part of this problem is to feed operational data into a model in order to obtain a Digital Twin of that specific robot.
By accessing this specific Digital Twin, AgroIntelli can customize its maintenance and service for the machine. A challenge for the company is to keep the service up to date with the newest knowledge and know-how about machines across international markets, as well as to investigate the possibilities for using virtual reality (or similar) for educating their service team across Europe and North America.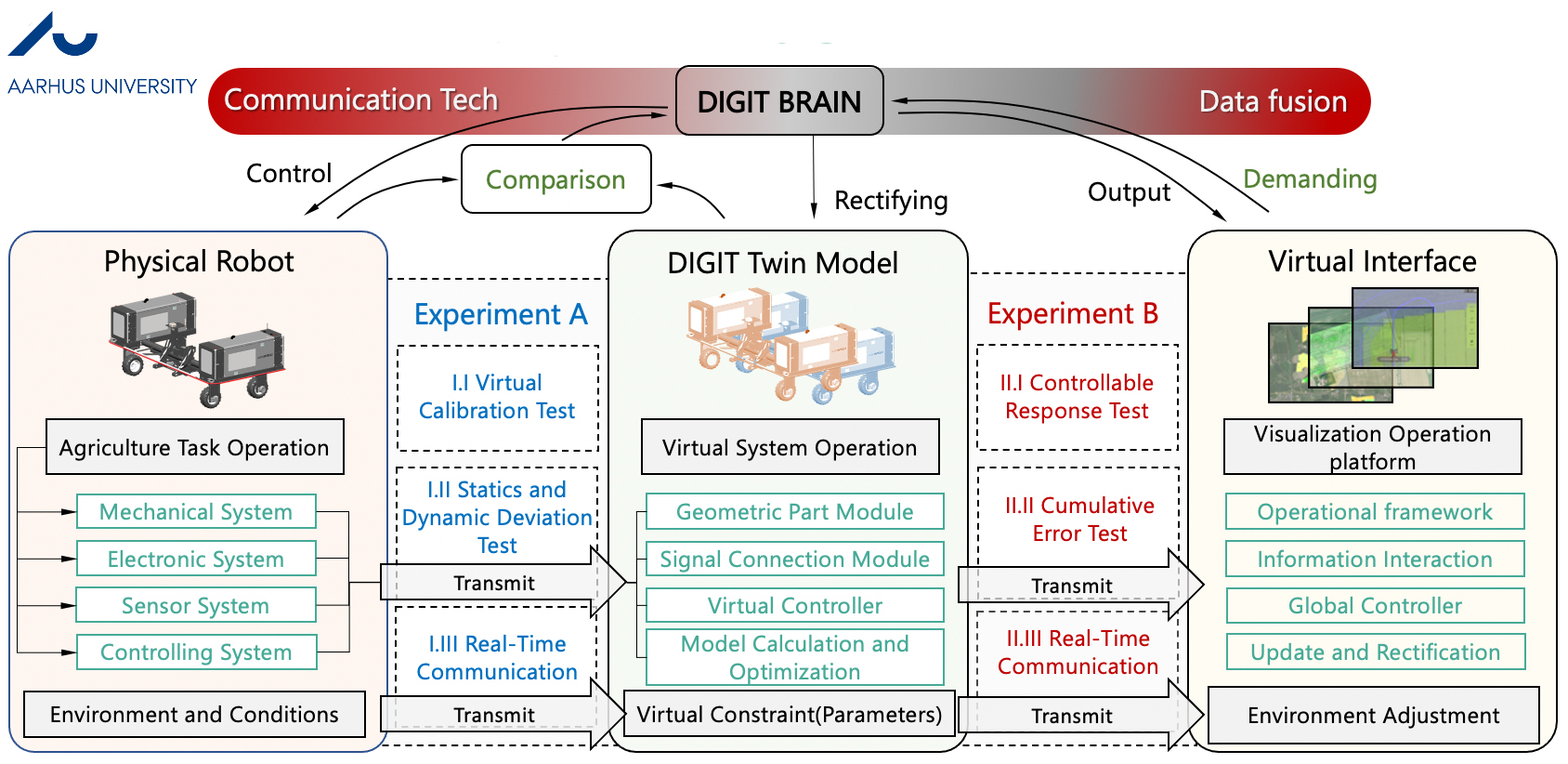 DIGITbrain Experiment 6 Overview
Technical Impact
From a technical point of view, the customizable Digital Twin that follows each Robotti produced and records all service issues will allow AgroIntelli to track, react and proact better and more effectively to such service issues than their competitors. This will significantly optimize the information flows for production, service, and engineering, enabling better choices for future changes to Robotti, decreased level of service issues, better service training programs for the machine dealers, and ultimately significantly decreasing downtime for the farmer.
AgroIntelli will also be able to make better proactive service decisions, knowing whether there is likely to be problems with the Robotti, based on the type of use from the farmer or the known issues, and can potentially repair the problem before it creates downtime.
Expected Economic Impact
AgroIntelli is expecting to increase sales as well as scale up its production in the coming years. Being able to keep track of robot-configurations, service and maintenance will become of great importance to the continued growth of the company and research and development of the Robotti. This experiment will significantly optimize AgroIntelli's production and service lines, connecting the production and service together, and aiming provide a higher level of service. This impact will not be seen directly on AgroIntelli's bottom line, however, because the company will be providing service at a higher and more efficient level, customers (machine dealers) and end users (farmers) will better trust Robotti. This is expected to result in free word-of-mouth advertising from farmers and an increased level of market gain, with an expected increase of sales from by 5% 1 year after the project's end to 45% 3-5 years after the project.
is the end-user in this experiment who will define the requirements and provide the data of their robots and their factory.
is the Research Institute and Digital Innovation Hub, which will focus on the digital twin of Robotti, providing technological support.
is the software provider which will focus on the manufacturing factory of Robotti, providing the technology support
---
---
Project:
Enterprises:
DIGIT – Digital Innovation Hub.
AgroIntelli – end user.
ULBS – software provider
Sector
Digital, Manufacturing.
Keywords
Digital technologies