BOUMA
admin
---
Experiment description
Currently all outgoing Quality Control inspection operations are performed manually. These operations include physical manipulation of each of the parts of the finished parts batch. Results are manually keyed in a word processing software and all conformity document are printed to be sent to the customer along with the parts and the invoice. The project includes 3 Tasks
Task 1: Robotic Arm for Finishing and final QC operations
Task 2: Automatization of Quality contractual documentation process and transfer to customer Extranet
Task 3: Proof of concept for Data Quality files collection, curation, formating and transfer to customer under confidentiality and IPR framework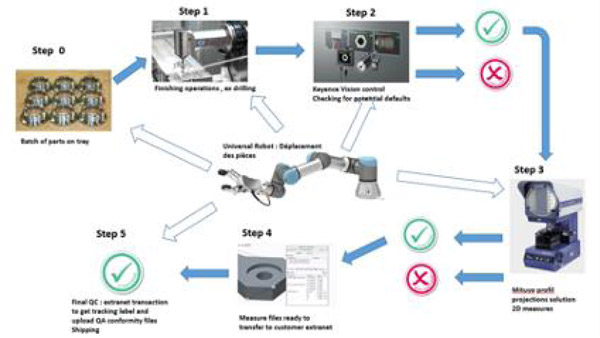 Technical impact
3 process have been implemented inside Project:
Process 1: Physical automatization of Outgoing QC controls. Implementation of a robotic arm for the QC control process.
Process 2: Dematerialization of Outgoing QC controls. An automatic control machine has been commissioned and integrated to outgoing QC workflow Due to the various formats required by different customers the process is a two-step process. 1. Design and development of master common format output 2. Customization of output for each major customer
Process 3: Dematerialized interface with key customer PoC. A basic concept using the Reference Architecture of the International Data Space was elaborated.
Economical / Business impact
Customer requirements are becoming more important on the quality and quality documents attached to the delivered parts. The automation of the finishing and control operations, as well as the digitalization of the documents represent a fast ROI, as well as an improvement of the quality.
---
---
Project:
Enterprises:
Bouma '
Sector
Transport
Keywords