Digital Skills and Jobs Coalition – Towards 20 million ICT specialists by 2030
mportales
Registrations have closed.
Digital Skills and Jobs Coalition – Towards 20 million ICT specialists by 2030
345
345 people viewed this event.
I4MS will present the Catalogue of Trainings and the outcomes of the Digital Skills Working Group at the event "Towards 20 million ICT specialists by 2030: how Europe is training its digital experts"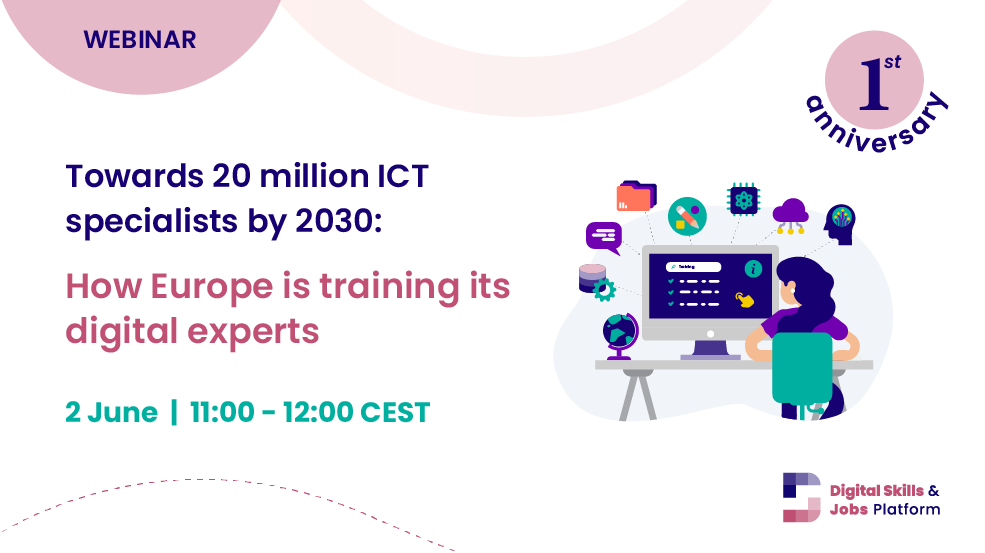 Europe is facing an unprecedented shortage of IT professionals. Companies and organisations struggle to find experts in artificial intelligence, data, cybersecurity or blockchain. This is blocking digital transformation of European economy and hampering its competitiveness.
The Digital Decade strategy aims to reach at least 20 million employed ICT specialists in Europe by 2030, but how´s Europe doing it in practice? How are Member States training new professionals in key enabling technologies? .
First off, Universities are becoming the key actors of change in the digital transition: they raise the new generation of graduates who need the skills to make use of new and advanced technologies.
The unique responsibility of universities lies in training the specialists who will shape the digital transformation in the future as well as those high-skilled graduates who will work in a digitally transformed society.
Moving the reflection to the active workforce, Digital Innovation Hubs and competence centres are responsible for transferring technology and knowledge to more traditional companies and the active workforce. Digital experts make their knowledge available to support the digtialisaton of traditional businesses and they make sure the employees are adequately trained to the use of advanced technologies.
This webinar shows how Universities and Digital Innovation Hubs are responding to the shortage of digital experts to make sure Europe reaches at least 20 million ICT specialists by 2030.
https://digital-skills-jobs.europa.eu/en/latest/events/towards-20-million-ict-specialists-2030-how-europe-training-its-digital-experts